SCALE COLOUR SYSTEM – Vol.1 Bass Book
The SCALE COLOUR SYSTEM is a unique an innovative method to study music that bridges Music Theory and the Mechanics of string instruments.
An intuitive system to map and internalise Notes, Scales and Shapes over the entire fretboard to develop accuracy and to unlock your playing.
The original graphics and illustrations are intuitive tools to visualise and internalise the symmetry of the fretboard – a crucial aspect to mastering the instrument – and to learn music concepts through practical application.
Levels: Beginner to Advanced.

  This system aims to build a strong understanding of music theory and its application on the instrument, to fill some of the gaps that may have occurred during previous studies, and to provide another point of view to look at music.
Available in English, Italian and Spanish. Read more.

ALL THE NOTES YOU NEED ARE ALREADY UNDER YOUR FINGERS. USE THEM RESPONSIBLY.
READ THE REVIEW by MusicOff.com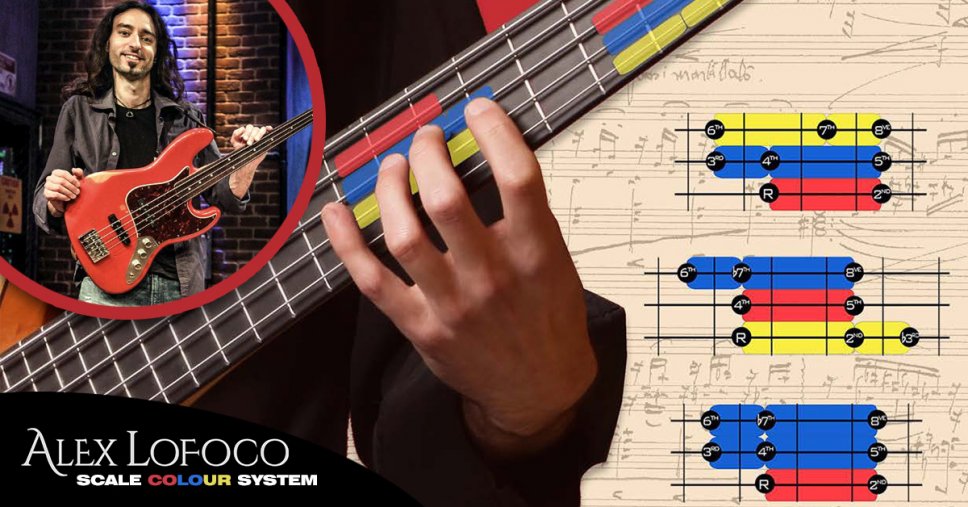 Watch the book review in conversation with Bass Musician Magazine
★★★★★

"Alex has devised an inventive system to decode the inherent tonal symmetry of the electric bass. This method demystifies the geometry of the fingerboard and speeds up the process of understanding and internalizing scales, modes and arpeggios. I wish I had a copy of this book when I was starting out!"

– Michael Manring
★★★★★

"A unique, innovative, and refreshing Scale Colour System by Alex Lofoco, which helps the player demystify the fingerboard, scales, intervals, arpeggios, modes and more! A very easy to follow, intuitive and visually instinctual method that bassists of any age and ability can comprehend. If traditional bass method and theory books have left you feeling bewildered & confused, then this book could well be a game changer!"

– Dave Swift (Jools Holland)
★★★★★

"Alex Lofoco's Scale Colour System Vol. 1 – Scales is an extremely comprehensive and in-depth approach to virtually every scale that a bassist could be expected to know. He uses an innovative system of using different colours for different scale intervals, superimposed on fretboard diagrams, though notation is also used, and this approach may well suit those bassists who find regular theory books too alien. To master every scale demonstrated would take hundreds, if not thousands of hours' practice, which probably matches the amount of work that Alex has put into this book! Highly recommended for those wishing to become masters of bass."

– Neil Murray (Whitesnake, Black Sabbath, Brian May)
Follow SCALE COLOUR SYSTEM on Facebook
BUY Scale Colour System – Bass Vol.1