Alex Clinic Tour in March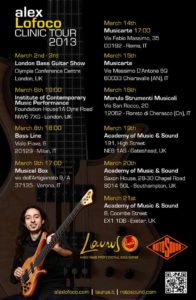 Alex's clinic tour March in collaboration with Laurus basses and Rotosound strings. The clinic tour will start in London and stretch over in Italy visiting music stores and Academy of Music and Sound music schools.
The clinics will be focussed on bass techniques, gear and tone. A Q&A session will also be a relevant part of the mastarclass in which Alex will share as much educational content as possible with the attendees.