Laurus Fretwraps launched at Frankfurt Musikmesse 2013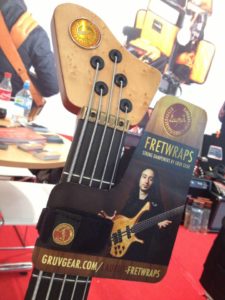 American music products manufacturer Gruv Gear announces a new licensing agreement with Laurus, a premium Italian builder of handcrafted bass guitars based in Vicenza, Italy. The two companies are launching Laurus FretWraps, a co-branded version of Gruv Gear's very popular string dampening accessory, which will be included in every new Laurus custom bass.

Gruv Gear and Laurus already have some mutual artist endorsers in their rosters, Italian bassists Alex Lofoco and Federico Malaman. Alex recently led a clinic tour in Europe for Laurus that also featured his use of the FretWraps.
http://www.prweb.com/releases/gruvgear/laurus-fretwraps/prweb10621727.htm