Featured Special Guests on Alex's project – Marco Minnemann
With great pleasure I introduce my rhythm partner who sat behind the drums recording all tracks of my upcoming debut album: Mr. Marco Minnemann.
Marco's reputation as a brilliant drummer reaches worldwide attention. Prominent are his solo workshops at the Frankfurt Music Fair, PASIC in Dallas and a solo performance at the Modern Drummer Festival in Toronto, and his performances and recordingss with such as Paul Gilbert, Eddie Jobson, Steven Wilson, Trey Gunn, Kreator, Necrophagist, Adrian Belew, Nena, Udo Lindenberg, Mike Keneally, Andy Partridge, FFW, Gianna Nannini, The Buddy Rich Big Band and many more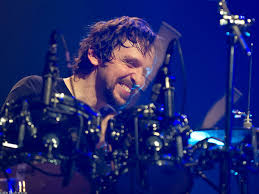 .
His work as an educational book author along with Rick Gratton brings out two books including the award-winning and in many magazines as #1 voted "Extreme Interdependence". Also, one of his DVDs "Extreme Drumming" wins the polls and wins Marco a Telly Award.
Marco toured with metal band Kreator, Eddie Jobson of the band UK, Steven Wilson and with his own super trio The Aristocrats.
Marco recorded Joe Satriani's album "Shockwave Supernova" and he is also involved as a writer, drummer, guitar player and vocalist on the LMR project (Levin – Minnemann – Rudess).
Read more about Marco.