Beyond – album release December 9, 2017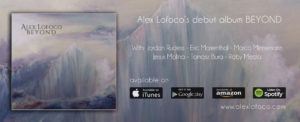 Independent bassist Alex Lofoco is releasing his debut album Beyond. Available on all major online stores on December 9th.
The album is a mix of fusion rock, jazz, progressive, latin and heavy-metal, featuring an incredible list of artists who contributed to the decisive sound of the record: Jordan Rudess, Marco Minnemann, Eric Marienthal, Roby Meola, Jesus Molina, Tomasz Bura.
EXPLICIT  FUSION – PROGRESSIVE  CONTENT
Track Listing:
1 – Rolling The Stone
2 – Resurrection
3 – Grace
4 – Earthquake
5 – Mystery Of Faith
6 – The Spear
7 – Beyond